Last Friday there was an opera in an alley in the Downtown Core. Really.
It sounds kind of creepy. But it was in the area beside the Palamino, and it was an all encompassing event.
I did a preview for GetDown, and still didn't really know what to expect. There was going to be pods, with a string quartet and a stilt walker.
The event started at 6:00pm, but my friend and I had a snack on Stephen Avenue and then joined at 7pm. The way it worked was that there were six companies participating as 'pods'. These companies were: Casting for Companies, Coppeneur, Bang & Olufsen, The Cellar, Sportschek, and Twigs & Company.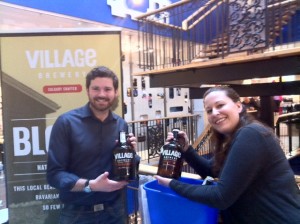 So patrons got to roam the 'pods' and have a drink and some food. The food part was missing. There were celery sticks at Bang & Olufsen, but that was it. Three drinks in 2 hours with barely any food? Made the world spin a little bit. The string quartet was at Casting for Companies when we were there, and they were quite great. First time I've ever hung out in a Sportchek and had drinks. Twigs & Company is a really neat store and I had a whole lot of chocolate at Coppeneur.
So we stumbled back onto Stephen Avenue, to see the string quartet playing in the street and a stilt walker greeted us and led us to the alley just outside of the Central United Church. We then got to see a fire swallowers. They was pretty cool (though I couldn't see her as well, as I'm pretty short)
We then moved to the open space next to the Palamino, and this is where the opera was held. There was a duet and then a couple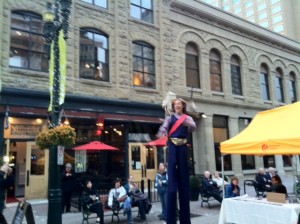 operas with all four singers. There were also some singers on the roofs of the buildings.
So my friend Shannon, who hands down knows more about opera than I do, supplied me with this information. The first piece was Mozart's "Der Holle Rache kocht in meinem Herzen" (called The Queen of the Night aria), The second piece was Leo Delibes' "Sous le dome epais" (The Flower Duet) from Lakme from The Magic Flute. Shannon didn't know the third piece, (neither did I!) and the fourth was "Nessun dorma" from Turandot (Puccini). I recognized the Flower Duet, but wouldn't have been able to name it. The opera lasted about a half hour and featured a video projection on the wall of the Palamino, four singers on scissor lifts, and the string quartet with a conductor. It was all kind of surreal in that this was happening in Calgary.
The after party was at the James Joyce and the Palamino. We promptly had a burger at the Joyce so that we wouldn't fall over. The opera experience in an alley was great, and I hope that Calgary has more initiatives and performances like this.
The two bottom pictures belong to Downtown Calgary. They are from their Facebook Page. I put them here and are crediting them, as I didn't have pictures of the actual opera, but I wanted people to get a visual.