Alice in Wonderland. With a twist.
That's Alberta Theatre Projects' holiday show. In Wonderland by Anna Cummer is a modern twist on a classic. With three actors on stage, the premise is quite the challenge. But ATP and the talented artists took it into their hands and created a wild ride. There is so much energy and innovation in this production, it is truly a play filled with awe and wonder.
The play opens to Alice (Sarah Roa) and her sister Lori (Natascha Girgis) and Charles (Graham Percy) as they float along a lake. Their boat is a toy trunk that Roa pulled on stage and the lake is a projection on the screen behind them. It is a gentle introduction to the magic of this production.
The white rabbit in the petticoat runs by in the projection on stage, and Alice follows him. This is where In Wonderland strays away from the traditional telling and where Jamie Nesbitt's projection design is another character on stage. It makes Alice's fall down the rabbit hole an incredible journey to watch, with Alice suspended in the air looking like she is falling, Roa being behind a screen and the projections on the screen gives the illusion of her falling. The projections on a sheet that is stretched the length of the stage is made to look like water and this projection makes the scene so compelling. These projections are breathtaking and beautiful and carry the narrative throughout the show.
The play is filled with this wonder, as Alice discovers different characters, grows and shrinks by eating and drinking different things and is generally overwhelmed by her adventure.
Cummer has created a world that pulls together scenes of Lewis's tale but fits it into a vaudeville style. It's a series of vignettes that are held together by Lewis' narrative. These scenes are filled by Girgis and Percy who are a powerhouse pair who play every character that Alice encounters, from the mouse swimming in Alice's tears to the door that encourages Alice to go to the garden party. Girgis and Percy are funny and charming and a joy to watch. They fill every scene with mirth and a stand out scene is the tea party. Every couple minutes one of them would call out 'move down' and they would both dance to another seat. It's a fun filled scenes that captures the joy and absurdity of Alice in Wonderland.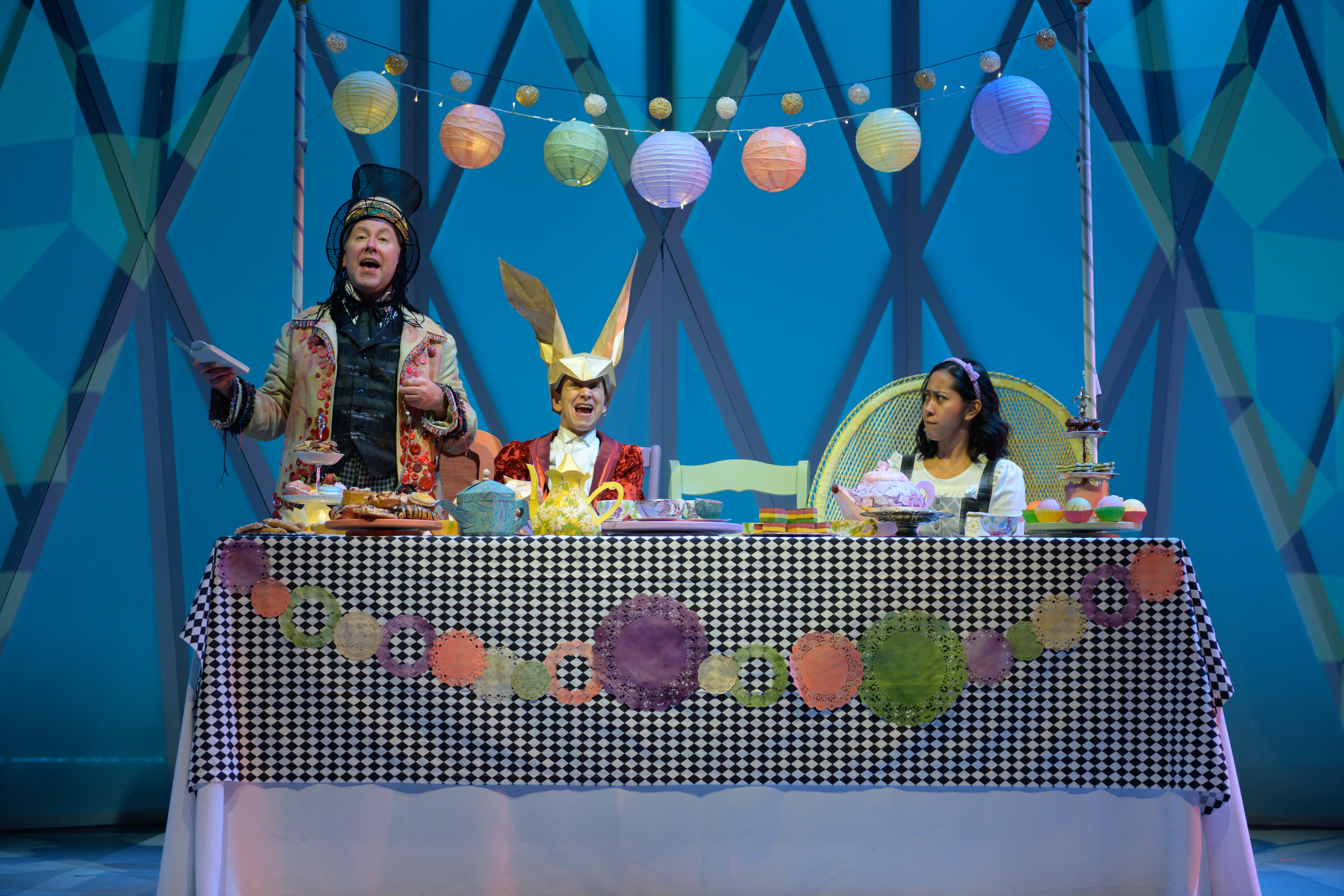 Roa's Alice is solid but the production points to how Alice spends most of her time upset or surprised or frightened by her circumstances. It makes Roa's role in the play less dynamic as she doesn't really change all that much throughout the performance, even if in the end she has gratitude for the people around her.
Hanne Loosen's costume design stands out in this production with Girgis and Percy in mouse ears and pinstripe pants and tailcoats. The production would not be the same without these garments. Girgis's playing card inspired queen outfit, with a skirt and a playing card as a bodice is so creative and charming. Alexandra Prichard's lighting design combined with Peter Moller's sound design rounds out the production.
Loosen's set design gives Percy's Cheshire cat a tree to perch in and the production also features an angled structure as a backdrop that displays Nesbitt's projection design. Mini lanterns are hung in various colours for the tea party, making Alice's wonderland so dreamy and well, wonderful.
All of these elements, including shadow work and puppetry, come together under the careful direction of Haysam Kadri, making Alberta Theatre Projects' In Wonderland a mesmerizing production and a complete joy to watch.
Alberta Theatre Projects' production of In Wonderland runs until December 26th. More information is available online.
Photo Credit: Ben Laird Arts and Photography